Build your own camping equipment. Plans for the do-it-yourself woodworking camper. If you have the tools and skills to build these, you will be able to build any of our blueskykitchen camping kitchen products.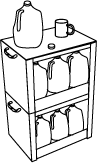 These downloads are in convenient PDF binders so it's easy to store them off in a folder and/or print them out.
If you like camping-tips.com , you are going to like our newsletter too but you have to 'join our mailing list' to get that.
I sure hope you enjoy this information and put it all to good use. Go Camping! - Ken
You DO NOT have to join our list to get the downloads but you may want to so I can keep you up to date on new products, web site content, videos and such. Heck, I even manage to send out a newsletter ever now and then. ;-) ( It's easy to unsubscribe and our list is managed by the most reputable name in email.)

Go Camping!