Camping Gear and Equipment You Can Build
Get the Water Table pdf download and other useful freebies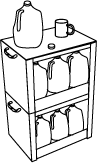 Camping can require a great deal of water and, of course, the more people you have and the longer you are going to be out, the more water it takes. The bare minimum rule for water is one gallon per person, per day and probably 1.5 times that if you are not going to be camped near water that can be used for dishes and cleanup.
If you have ever tried to pour a cup of water from a five gallon jug, then you'll realize the advantage of having water in one gallon increments. This basic design uses 6 of your empty 1 gallon milk or water jugs to form one 6 gallon unit and by making two units you can get another counter height work surface by stacking them one on top of the other. That would comprise a basic water table as shown here. If one were to make two water tables (24 gallons) you could also make a table top to span the two basic water tables yielding another table type work surface. (We love work surfaces!)
All the Blue Sky Kitchen chuck box and camp kitchen products employ the same 'skin and bones' principles used to make these water table devices. Thus, if you are wondering whether or not you have the tools, skills and abilities to build any of our products, try building a water table and that will tell you. If you can build this, you won't have any trouble with our other plans products that are available for purchase.